For Sale 5 Head Dress
For Sale * Previously Loved things *All Sales are Final
For Confirmation and availability send item numbers to:
FB/PM Messenger Susan Derr Drake Phone or Text: 805-452-0414
Email / Pay Pal Friends / Zelle / Venmo / Check :
Susan Derr Drake 805-452-0414. derrdrake@aol.com
Address: 121 Whale Tale Trail, Friday Harbor, WA 98250
Head Dress Many more items coming ASAP!
HE 1 Tribal Kuchi Head Band Padded for Sword $75 *SOLD
HE 2 Red Tribal Kuchi Head Band Padded for Sword $75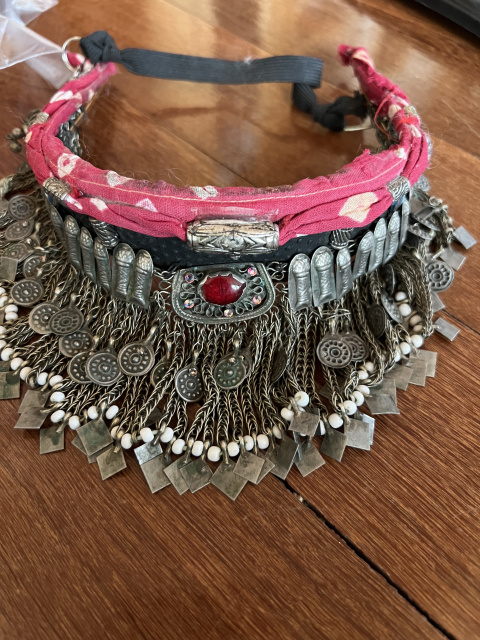 HE 3 Tribal Kuchi Head Band or Necklace $50
HE 4 Tribal Kuchi Wedding Head Band $50
HE 5 Headbands $40 Each
A Red/Yellow,
B Red/Blue,
C Orang/Red,
D Blue,
E Black/Red
Website Disclaimer and User Agreement:
Susan Derr Drake, www.RidingAids.com and all contributors may or may not be licensed physicians, veterinarians, clinical psychologists or practitioners. Any and all services, products and information offered may not be not licensed by the state, and are protected under the California legislation Senate Bill SB577 to allow Californians choice and access. The nature of the services, products and information provided are intended for the highest good of any and all beings.
When ordering from this site or purchasing products and services from Riding Aids and Susan Derr Drake, you understand, agree and accept it is your free will choice and your responsibility, to do or not to do, to have done or not to have done, to allow or not to allow, to use or not to use, and you may research, any product, service or information provided by www.RidingAids.com, it's contributors and Susan Derr Drake before acquiring.