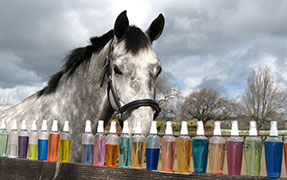 It is all about the Energy
Reiki

Dowsing
Bodywork
Ground Work
Homepathics
Color Therapy
Healing Touch
Card Readings
Crystal Therapy
Bach Flower Remedies

Power of Positive Thought
Essential Oil Rain Drop Therapy
Non-Verbal Animal Communication
Healing through Riding in Harmony
Bio Energetic Syncrynization Technique
Nutritional-Vitamin-Mineral- Feed Awareness

Energy of Prayer-Non Denominational Minister
Compassion, Empathy and Sympathy for others
Certified from Integrated Equine Therapies with Tom Mayes in
Melding, Applied Kinesiology, Sacral Crainial, Osteopathy, Nerve and Blood work
Aura Photo of Susan Derr Drake
White: Connection to Spirit, All That Is, divine energy, channeling, purity.
Blue-White: Communication of spiritual ideals, angels and spirit guides.
Magenta: Very high-energy vibration and awareness, Universal love.
Blue: Communication, intuition, wisdom, truth, devotion, good listener.
Turquoise: Compassion, sensitivity, teacher, guide.
Green: Counselor/Teacher, Healing energy.
Susan Derr Drake works with, studies and researches energy fields and their effects on
and around people and animals. She uses many techniques for horses and
riders and has a network
of Practitioners, Veterinarians, Doctors and Healers to support the energy fields.
Her intention is to raise
the frequency of vibration, to assist the body, mind and spirit
to a perfect balance and state of well-being.