Lessons with Susan Derr Drake are available at
Valley View Farm in Santa Ynez, CA or your place!
Lucky Star, a 20 year old intermediare, super sweet and safe, horse is available for lessons with Susan
to learn to move fluidly with a horse with an understanding of biomechanics and timing of aids.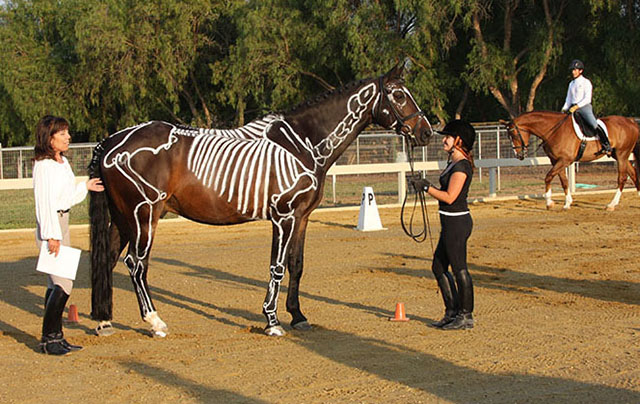 Susan connects to her students and their horses in way like no one else. She is the bridge to their deepening relationship through Common Sense Horsemanship and Ancient Wisdoms. Susan has been teaching since 1972 5 year old to 82 year olds. She is devoted to the safety of both horse and rider. Susan brings insight to beginners through advanced riders to trainers in all disciplines of riding. As a trainer's trainer, and horse listeneer, her thirst for knowing how things work and her intuitive gifts guide her to 'tune-in', awakening and harmonizing the mind, body and spirit of them both. She synthesizes the science of anatomy/physiology and biomechanics with the art of mental awareness and insight of inter-species communication in her teachings. Susan usually coaches on a one on one private lesson for half hour to one hour sessions. Occasionally she offers a 2 hour group workshop to include more theory and exercises enjoyed by a group.
See the 'Newsletter' for worshop dates and subjects.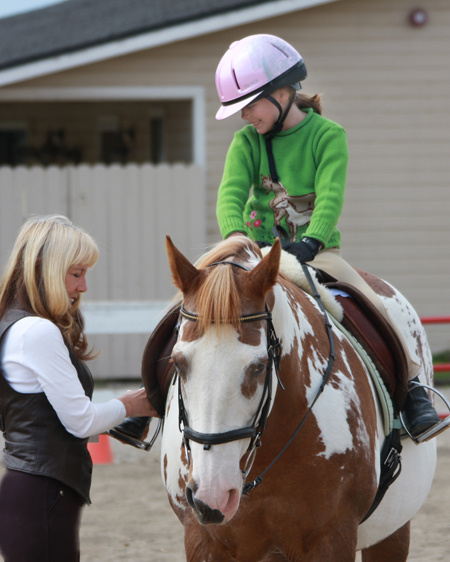 Susan patiently listens for the things that bring joy and comfort to Amanda and Miss Paradise.
It is a new generation of sensitive, independent and aware riders.
Susan teaches Anatomy as it relates to better riding and the horse's well being no matter what your chosen sport.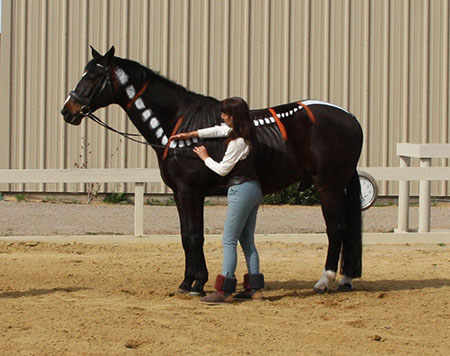 "A horse is a horse. The more we know about how and where they move and how they need to carry
our weight, the safer and healthier it is for both the horse and rider." SDD
to read what many others also say about Susan.
Written by student, rider, Joan Hartman:

"Susan Derr Drake has committed her life to equines. For almost 40 years she has been studying horses and how humans interact with them. Through a broad range of disciplines, she explores how our relationship with horses illuminates deeper truths about ourselves and how, by working together, horses and people can grow together in balance and harmony.

Susan has recently moved her stables to Valley View Farm and has scheduled a series workshops on "Achieving Harmony with Your Horse" and travels to give clinics throughout the United States and Europe.

Susan teaches riders in many different types and styles of riding, but she always begins with enhancing, "forward, straight and round" or " speed, direction and frame" as taught in dressage. Dressage is to riding what ballet is to dance, or figures are to skating, or Iyengar is to yoga. For Susan, dressage is a system for learning the fundamentals about horse anatomy, physiology and movement as influenced by the human body. If you take the time to learn the basics, your horse will be healthier and happier for longer. You can then apply the basics to any style of riding—Trail, English or Western pleasure, Reining, Driving, Hunters and Jumping. And you will be rewarded with an increasingly nuanced ability to read your horse and to learn a great deal about yourself. Synergy is defined as "the interaction of two or more forces so that their combined effect is greater than the individual effect. Susan is a Synergy master.
A first lesson with Susan might be just sitting on your horse, adjusting your weight and exerting pressure in different ways to observe how your horse responds. Does your seat create a hollowed out back or can you help your horse use its abs to round up and better carry your weight by creating a bridge within their body to protect their vertebrae and nerves while making it easier to move in any direction with grace and balance?

Lessons progress to helping the rider sense the different parts of the horse. Count when the right hind leg is moving forward, feel the barrel swing from side to side, see how the neck and head follow through from the movement of that hind leg. The rider begins to recognize all the moving parts and how they relate to their body's movement.

The next phase is learning to move in response to the horse's movements. Shift your hips and pelvis with the horse's rear legs, swing your shoulder forward with the horse's, let your legs sway with its barrel, press down slightly in the stirrup, and don't let your neck stiffen up. Something as simple as "relax your jaw" can result in a big corresponding relaxation response in your horse. Then, by playing with the concept of drive, restrain and harmonize in different parts of the bodiess, the horse magically displays, Piaffe, Pirouettes, Passage or the most graceful soft circle or clear transition.

While people are upright, horses are long like boats or trailers so they need a smooth sequence of actions from the rider to keep the parts moving in balance. So riding is constantly adjusting all the parts to keep the, rhythm straightness and roundness. It is a dance where the rider leads with subtle pressure on one side while opening up space to move into on the other.

With these basics, Susan asks her students to consider the energetic relationship between horse and rider. At one level, everything starts with that powerful hind leg whose force ripples through the horse's body all the way to its nose, and through the rider's body from seat bones through the neck and shoulder to the reins, harnessing a continuous and controlled circle of energy. When you first feel it, it's ecstatic, but brief. It offers a glimmer, though, of what riding can be. For a moment, horse and rider were one. This begins the real work. The student must learn about the many blockages that get in the way of that transcendent moment. "Timing is everything" Susan says. Discovering the basic four phases of the hind leg from sitting phase to pushing phase to lifting phase to reaching phase to sitting phase again, the rider's pallet of aiding possibilities and connection expands beyond measure.

Susan is extraordinary in her range of knowledge that can be employed to uncover the source of blockages. She can identify anatomical imbalances in the horse and rider. She will suggest changes in tack. She can spot nutritional problems or faulty shoeing work. Sometimes she will lightly touch the horse or apply a more vigorous bodywork technique that releases pinching or pain. She can transform a horse—from antsy to calm, from rigid to loose, from gimpy to balanced before your very eyes.

It can seem like magic, but she is able to share her secrets. From her BS degree in Biology to her years of study as an energetic healer, she can break things down analytically in words, or describe it in a metaphor, or draw you a picture in the arena sand or show you in a mime with her own body or paint the picture in your mind of the feeling. She's never at a loss for another strategy to better get across what she wants you to understand and feel in your very core.

Susan has ridden in 116 dressage Grand Prix events and has schooled 100's riders including her Rocket Scientist Husband, Paul from raw beginner to receiving his USDF Gold Medal in the Grand Prix. He is riding Alanti, a very sound 20 year old Hanoverian red mare. Enough said!
She schools riders for high-level competition, but enjoys most working with riders, whatever their skills and goals, because it is in transforming the relationship between horse and rider that she derives her greatest satisfaction. How can they synchronize their energies to become something greater than either alone? Synergy is her quest!

Susan is also a gifted equine photographer and has published a stunning book, Reflections, Equines and Us , that celebrate the affinity that can develop between horse and rider (Click on Books button on home page). In addition, Susan makes striking necklaces featuring gorgeous equine figures (Click on Jewelry Button at home page). And now ads to her collection of artistic endeavors, the art of Belly Dancing! (Click on Susan Derr Drake Button on home page and go to Belly Dancing)

All in all, Law of Attraction has brought you here and now to the time for
you to experience a lesson with Susan Derr Drake.
Enjoy!"